Orfeo-Orpheus-mediumorfeus07

Remembering by perceiving: going from Orfeo into the media age of the 21st century
Orfeo 400 Jahre (1607-2007): "Alle Oper ist Orpheus"

"All opera is Orpheus." (Th. W. Adorno in: Die bürgerliche Oper) "All opera remains Orpheus until Eurydike returns."
(Kattrin Deufert in: Orpheus und die Anfänge eines Musiktheaters in der Renaissance). Opera is in its very nature a controversial
medium. It tends to emphasise the singular. (Claus-Steffen Mahnkopf in: Das Musiktheater – Exempel der Kunst, Studien zur
Wertungsforschung, Graz 2001, UE-Volume 38)

Point of departure: Orfeo-Orpheus
Going from Orfeo - FAVOLA IN MUSICA – to Orfeo ed Euridice – azione teatrale per musica –
to the media age of the 21st century

Orpheus was an obvious choice as the subject matter which was to define the newly formed genre of opera, around 1600.
Monteverdi and Striggio take the nascent genre of the intermedium, created by the Florentine camerata, to the heart of the new
musical-dramatic expression of the time. Monteverdis Orfeo (Mantua 1607) is actually the first opera in the sense of practical
musical performance; not just the oldest opera work, but moreover the first musical drama in which poetry, dramatic action and
musical composition are conceptionally balanced.
(after: Franz Ferdinand Redlich Claudio Monteverdi. Leben und Werk, Olten 1949).

The Orpheus myth provided the authors with the great challenge of creating a new kind of music that might reclaim the rhetorical
emotional power it was believed to have had in classical antiquity. The actual, historical achievement of Monteverdi lies in drawing
together the stylistic phenomenae of his time into a coherent musical cosmos, that points both to the past of the "Intermedium"
as well as to the future of the Gluck-Wagnerian "birth of drama from the spirit of music."

Film adaptations of Orpheus, Cocteau's modern Parisian Orphée, particularly Camus' Brasilian Orfeu negro, and further-reaching
literary, painterly and photographic adaptations, are modern(ist) examples of the intermedial progression of this ancient subject
matter of vocal metaphysics.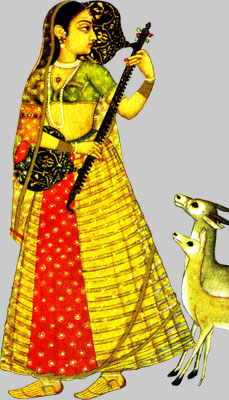 Todi Ragini, Miniatur 17. Jahrhundert, Rajasthan, Staatliche Museen zu Berlin, Ausschnitt